The importance of motorcycle gloves is often ignored, but wearing gloves while riding is as important as wearing a right size helmet.
Hands are the connections you have to your motorcycle and the right type of gloves can help you manage your motorcycle better. Also, if you hit the road in an accident, the heel of your palm is the first thing to be harmed, so it requires stronger abrasion protection.
Motorcycle gloves are specifically designed to not only protect your hands in a crash but also to keep your hands safe from extreme weather, dirt, harsh wind, and sunburn.
Different types of motorcycle gloves are constructed depending on the riding needs and protection required by a motorcyclist.
To figure out which type of glove will best suit your riding style, keep reading!
Types of motorcycle gloves
Here are the four main types of motorcycle gloves made for different riding styles.
1– Cruiser gloves
Cruiser gloves are often just a simple, traditional leather riding glove, although some wonderful pairs of cruiser gloves made of thick fabrics are also available.
These gloves are sturdy but lightweight and provide high-resistance protection for street riders without causing strain.
Separate cruising gloves are available for different weather conditions. For summers, perforated cruiser gloves allow great venting so that your hand doesn't feel warm and sweaty.
Some are water-resistant, making them convenient to wear for long rides.
For individuals who like to travel in chilly weather or freezing temperatures, heated motorcycle gloves are recommended. They are best to protect your hands from extreme cold and prevent frostbite.
2- Gauntlet gloves
Gauntlet gloves have knuckles in fingers and additional leather reinforced in the palm and wrist. These gloves are abrasion-resistant, protective against extreme temperature, sudden hits, punches, and metal impacts.
Motorcycle gauntlet gloves come in different lengths and protect your wrists from tearing in case of a fall. Gauntlet gloves mostly have arm cuffs lower than your wrist and multiple straps for greater safety. While a longer gauntlet is more popular, shorter gauntlet cuffs are a good option too as they allow you to wear your sleeve underneath or over the gauntlet.
For better road rash protection while riding a sportbike, look for an armored gauntlet that extends up the outside forearm.
3- Adventure/ Touring gloves
Adventure and touring gloves are designed to fit a wide range of conditions just like adventure motorcycle boots. Some conditions require exceptional impact resistance, while others need a solid grip with sweaty, and dusty hands.
A nice pair of adventure motorcycle gloves protect you against extreme climatic conditions, dampness, and crashes while providing the comfort you require on a long track.
4- Off-road gloves
These gloves are the best choice for trail riders who spend their most time in dirt and mud. These bikers usually crash on mud and not on concrete, thus off-road motorcycle gloves are all about comfort, breathability, and lightness.
How to measure your hand size?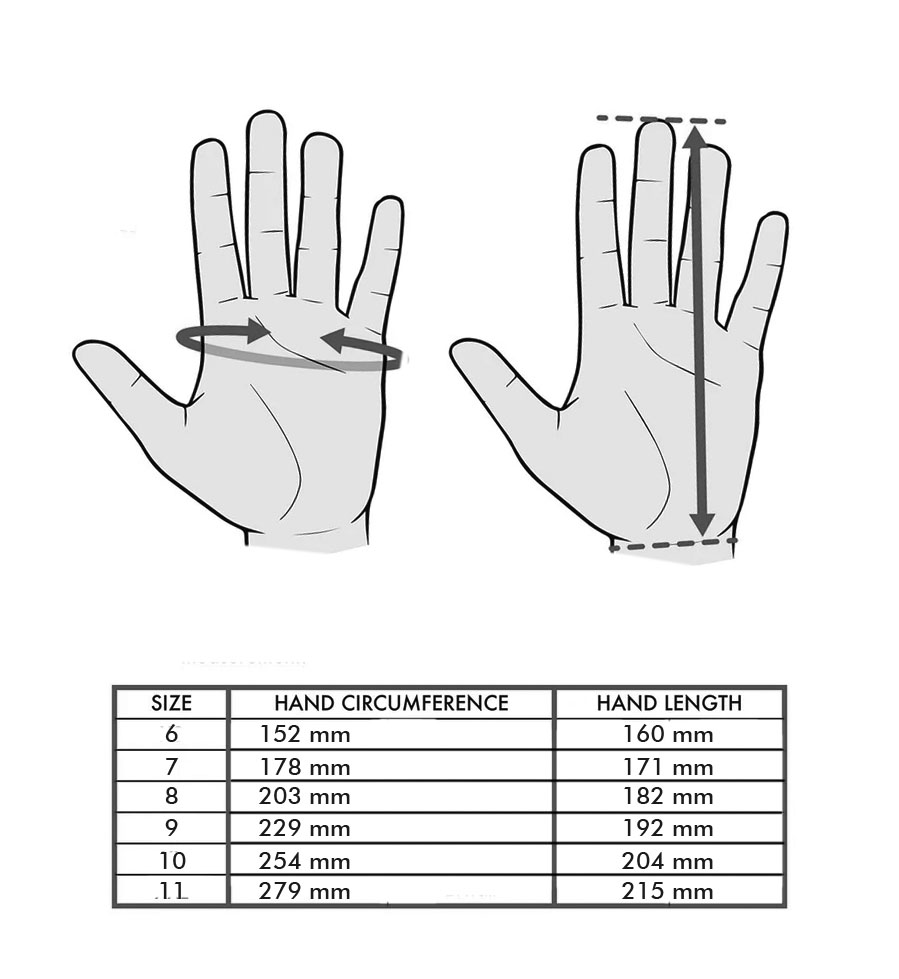 Just like buying the right size motorcycle boots is necessary, getting a pair of gloves that fits you right is mandatory too. For this, you have to measure the circumference of your hand. Wrap a cloth measuring tape around your palm starting with the knuckle of the little finger and ending at the same point after completing the entire circle, but don't count your thumb.
If your hand measurement lies between two sizes, go for the larger one to ensure comfort. The gloves should fit nice and snug but not too tight to restrict your hand movement. It's a good idea to try on various sets of motorcycle gloves from different brands to find the best fit for you.
Women motorcycle gloves are available separately because the measurement of the women's hands differs from men's. They are specifically tailored for women's narrower palms and smaller fingers.
We have budgets too, obviously, and when purchasing the right motorcycle gear including a budget motorcycle jacket, riding pants, knee braces, and motorcycle boots that best suit your height, you really want to ensure a balance between safety, comfort, and costs.
Fortunately, you can easily buy multiple pairs of motorcycle gloves for your different riding styles under a rock-bottom price of $50 only.
---
Conclusion
There's no guarantee that gloves will provide complete protection for your hands, but it is certain that just like wearing a 3/4 motorcycle helmet gives you protection with comfort, wearing a quality pair of motorcycle gloves can also save your hands in the event of an accident.
You can also match a pair of Forma adventure boots with your riding gloves to look more classy.