A motorcycle helmet will be your shining armor if things go south for you on the road. It'll be your best friend when the impact becomes inevitable. Your helmet is a necessity, not your grandeur.
Well, maybe you can flaunt it but safety does come first. There's no arguing on that, right?
Helmet wear has been found to minimize the risk and seriousness of injury for motorcyclists by around seventy percent, the probability of death by about forty percent, and dramatically reducing the cost of emergency care associated with such accidents.
Head injuries are the frequent cause of death in motorcycle crashes. You'll see that in most lethal cases, the rider wouldn't have had a helmet on. We're not exaggerating when we say that a helmet allows you to avoid severe damage to your skull in case of an accident, and in some cases, you even cheat death. Even a half-face helmet, such as the Sena Cavalry, reduces the risk of major head injury by half.
With the increasing prevalence of motorcycles due to their ability to plot a path more quickly than other types of cars, there is also a rise in motorcycle accidents. The changing or replacing of the helmet within its due lifespan is a vital element in securing the worth of human life.
Most helmet manufacturers' suppliers, including Daytona, HJC, and Ilm helmets, advocate replacing the helmet after five years of "standard" use, but what most people fail to acknowledge is that helmet's longevity can always depend on how it gets used.
The more frequently you ride, the lower the lifespan of your helmet would be, even if you're wearing one of the safest motorcycle helmets. There's no rocket science there.
Working Procedure of a Motorcycle Helmet: A Rider's Bona Fide Life Saver
The helmet decreases the skull's deceleration, and thus the rotation of the brain, by controlling the effect. The absorbent padding of the helmet takes more of the force, and thus the head manages to find a calm spot. In other words, a helmet decreases the collision impact by tenfold.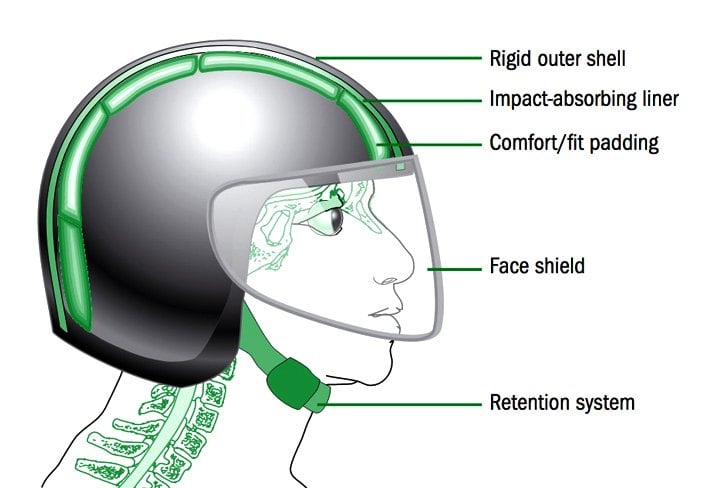 Additionally, it extends the impact forces over a wider surface area to not focus on essential parts of the skull. Moreover, it also helps avoid physical interaction between the head and the subject of impact by serving as a mechanical shield between both the head and the surface.
The helmet comprises four essential parts. The first one is the stiff exterior casing or shell. This part is the helmet's solid outer surface that delivers the impact over a wide surface area and decreases the force until it hits the head. Since the shell is severe, it's built to compress when it receives a heavy impact. It defends against intrusion by small, sharp, and high-speed objects and protects the helmet's insulation from abrasions and knocks during everyday use. These specifications indicate that the shell of your helmet must be tough and that is usually achieved with a smooth exterior finish.  
The second part is the liner of impact-absorbing. It is composed of soft, flexibly padded material typically stretched polystyrene, widely known as Styrofoam. This thick coating cushions and absorbs the pressure as the helmet ceases and the brain struggles to stay going. 
The third part is convenience padding. This padding is the soft foam-and-cloth layer that lies next to the head. It helps keep your head secure and your helmet suits snugly. Lastly, there is a maintenance scheme system or chin harness. This system holds the helmet on its head in an accident. A brace gets fixed to either side of the shell.
6 Signs Your Helmet Needs A Replacement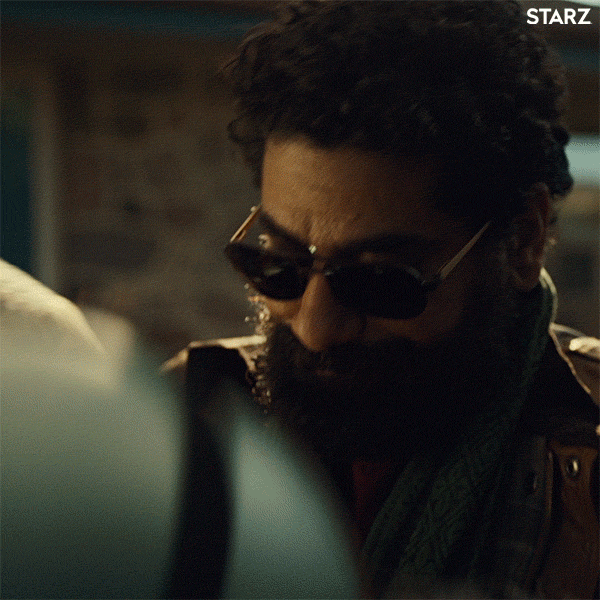 1- Age of the helmet
After five years of regular wear, the helmet is more than likely to be weakened. It might still be in a not-so-worn-out shape, but you should still remember its age and its effect on the components of the helmet.
If you regularly wear your helmet, it may get exposed to weather, debris, UV rays, and other factors that do harm your helmet's integrity. In the end, these elements weaken the resins and the glues that keep it together. There is no conclusive evidence on this; most motorists are following the 5-year expiration date.
2- Frequency of usage
If you are using your favorite low-profile or German-style motorcycle helmet for your everyday riding, it is obvious that your helmet will get subjected to excessive wear and tear. It's undeniable that repeated usage will weaken the credibility of the helmet over time. You may equate it to riding a motorbike or driving a vehicle every day – your vehicle is going to need tuning and a proper cleaning service once in a while. The same goes for your helmet.
3- Accident cases
This point ought to be perfectly understandable, but it needs to be stated. If you have had an injury, it might be time for a new helmet. You need to inspect the helmet carefully and probably have it x-rayed for any damage.
Wearing a damaged helmet may shield you but it'll be a broken shield. You will still be prone to damage in case of an accidental future impact. This fact can't be emphasized enough. Please do not wear a helmet that was in a crash – unless you've checked it thoroughly and tested it multiple times for any potential damages.
4- Misfit or loosening of the helmet
It suits you very well when you buy a new helmet. When you turn or nod your head, it stays sticking to your noggin like glue.
To decide whether your helmet has gotten loose, try this test. Rock your head back and forth. Is it sticking on your head? You should also check whether it is slipping around. If your helmet falls about or is loosened when shaking your head, this means that your padding is becoming compact and maybe it is time to repair or replace it.
5- Damaging in the interior or exterior of the helmet
Typically, it's not the outer shell that degrades first. It is usually the linen and foam present inside your helmet. If your helmet's lining is damaged near your hair or on your shoulders, it's a sure indication that you need a helmet upgrade.
If the shell of your helmet gets porous, breaks, or threatens to break apart, you need to repair your helmet. It's pretty clear that wearing a helmet in this compromised state is not healthy and nobody should endorse it. The shell is the very first contact point in an incident. This part should also be substantial and robust. Some holes in the surface will immediately expose the motorcyclist's skull to damage if you are in an accident. Even if you are wearing a carbon fiber shell motorcycle helmet, like the Bell Bullitt, which is considered one of the strongest helmet shell materials, it needs to be replaced if it suffers from any kind of impact, no matter how small the impact was.
6- Strap or Lock Malfunction
Make sure the straps are functioning well on your helmet. It's possible for you to find your strap locks rusted due to weather and pollution after a substantial amount of time.
The helmet chin strap is a vital part of holding your helmet over your head. If this part doesn't fit well, it may be time to get a new helmet or seek a substitute chin strap.
---
Moral of the Story
A good-quality helmet like Biltwell Gringo or Bell Bullitt can last for a while if they are appropriately stored, cleaned regularly, and maintained well. One should also remember their helmet's age and use as it gets worn out with time.
Another incentive to purchase a new helmet, above usual wear and tear, is the developments in the helmet's technology. It's obvious that each year reputable helmet manufacturing companies such as Scorpion Exo and 6D helmets, come up with new head safety prototypes that are designed to fit, look, and serve better than the previous models. Shark Drak helmet, the updated version of the Shark Raw helmet, is one of the great examples of high-level innovation. The nicest part about this helmet is that it includes a bottom mouth guard that can be removed to convert this full-face mask into a more elegant 3/4 shell helmet that most people prefer.
You've got one life, you don't want to trade it for cheap gear, laziness, or recklessness now, do you?